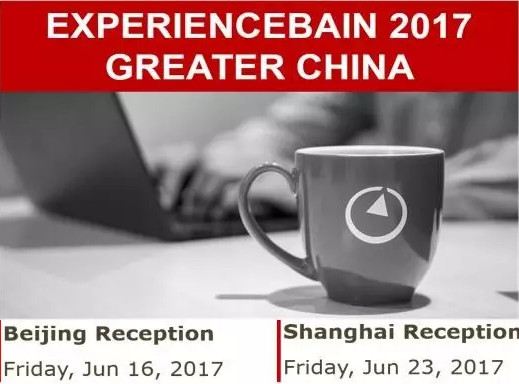 Dear Pre-MBA students,
Bain & Company is the management consulting firm the world`s business leaders come to when they want enduring results. Together, we find value across boundaries, develop insights to act on, and energize teams to sustain success. We`re passionate about always doing the right thing for our clients, our people and our communities, even if it isn`t easy.
We cordially invite you (student who admitted to a full-time MBA program beginning in the Fall of 2017) to "ExperienceBain Greater China" receptions hosted by Bain & Company Greater China. This is a great opportunity to meet with senior representatives and learn more about what we`re working on, what we`re passionate about and how your future fits in with ours.
Beijing Reception
Date: Friday, June 16, 2017
Time: 5:00pm-7:00pm
Place: The Ritz-Carlton, Chapel-83A Jian Guo Road, China Central Place, Chaoyang District, Beijing (北京丽思卡尔顿酒店,朝阳区华贸中心,建国路甲83号)
Dress: Business casual
Shanghai Reception:
Date: Friday, June 23, 2017
Time: 5:00pm-7:00pm
Place: Jing An Shangri-La, Jing An Kerry Center on West Nanjing Road, Shanghai (上海静安香格里拉大酒店: 南京西路静安嘉里中心,延安中路1218号)
Dress: Business casual
If you have any question, please feel free to e-mail China.Recruiting@bain.com. We look forward to meeting you in Jun.
please click or scan the QR code below to RSVP before May 31, 2017.